What are the side effects of SIRT?
Almost all treatments and drugs produce unwanted side effects. Everyone is unique and it is not possible to predict what side effects will occur after a SIRT procedure — some people may have a few side effects while others may be more affected. It is important to discuss the potential benefits and risks of treatment with your doctor so you will have realistic expectations of your treatment. The side effects of SIRT are generally mild. The most common side effects following a SIRT procedure are:
Tiredness: This is one of the most common effects and can last for up to six weeks. If you are feeling tired it is important to listen to your body and get some rest. Tiredness usually subsides after a few weeks
Loss of appetite: This is one of the most common effects and can last for about six weeks
Mild fever: This is commonly seen and may last for up to a week
Tummy pain: You may feel some pain or tightness in the tummy. You may be given medication for a month after the procedure to treat inflammation of the stomach and stomach ulcers
Sickness: This may last for one to two days. Your doctor may prescribe some antisickness tablets (anti-emetics) to help you feel better
Soreness: You may experience some bruising or a small lump where the catheter went into your groin. If this gets worse, be sure to tell your doctor
Diarrhoea: This is usually mild and does not usually require treatment
Rare to uncommon side effects
In rare instances, a small number of the radioactive microspheres may inadvertently reach other organs in the body, such as the gallbladder, stomach, intestine, or pancreas causing inflammation or ulceration that can be troublesome and difficult to treat. These complications are rare, but if they do occur they will require additional medical treatment.
As with any other treatment options that are used to extend the survival of patients with cancer, SIRT can cause severe side effects that in extremely rare cases can lead to death. You will be treated by a doctor who is specially trained in SIRT to minimise the risk of these side effects from happening.
Effect on unborn children
Patients must not receive SIRT treatment if they are pregnant, and must not become pregnant (or father children) within two months of receiving the treatment.
It is important that you tell your doctor about any side effects no matter how small they may seem, especially if you notice any worsening of symptoms.
---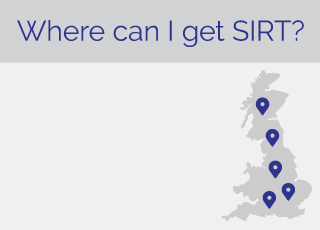 There are three ways in which you can get SIRT treatment: