SIRT using SIR-Spheres microspheres has been shown to extend life, improve quality of life and in some cases can shrink tumours so much that they can be surgically removed or ablated.

SIR-Spheres microspheres improve survival by about five months in some patients with bowel cancer that has spread to the liver and who have failed previous chemotherapy.

In combination with chemotherapy, SIR-Spheres microspheres can reduce the size of liver tumours, increase life expectancy and improve quality of life for some patients with bowel cancer that has spread to the liver.
The National Institute for Care & Health Excellence reviewed SIRT for use in patients with both liver tumours that have spread from the bowel1 and primary liver cancer2 that cannot be treated by surgery and concluded:
Current evidence on the safety of SIRT is adequate
SIRT can delay the progression of the disease
In some cases liver tumours shrunk sufficiently so that they could be surgically removed
More comparative research is needed

Click here for NICE guidance for SIRT
---

Brian's Story
Watch Brian's story about how SIRT was successfully used to treat his cancer.

---
Rachel's Story
Watch Rachel's story about how SIRT has helped her to carry on as normal.

---
NICE. Guidance IPG401. Last updated May 2013
NICE. Guidance IPG460. July 2013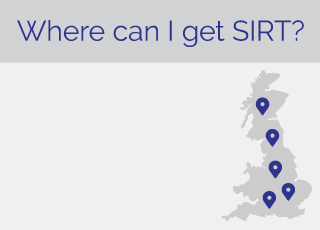 There are three ways in which you can get SIRT treatment: